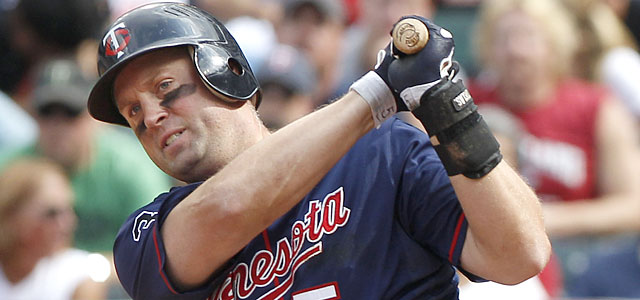 Michael Cuddyer
, who has agreed to a $31.5-million, three-year deal with the
Rockies
, was the team's top target this winter for obvious reasons. He is the righthanded hitter they seek. He is also the great clubhouse presence they love.
He is also similar in many ways to
Michael Young
, the one who got away.
The Rockies thought they had agreement before the 2011 season that would have sent
Eric Young
and another young (lower case) player to Texas for Michael Young. But when Michael Young told the
Rangers
he'd like to stay, the Rangers asked out of the deal, and the Rockies very nicely obliged with the stipulation that they'd have first crack at Young if he should go back onto the market.
Cuddyer, like Young, is a excellent righthanded hitter who's versatile and great in the clubhouse. He isn't quite as good a hitter as Young, but he fills the bill, nonetheless.
It also helps set the Rockies up for the rest of the winter. Cuddyer's deal marks the end of Colorado's pursuit of
Carlos Beltran
who is said to be talking to the
Cardinals
,
Blue Jays
and one other team.
They still seek a starting pitcher and have shown interest in
Hiroki Kuroda
and
Joe Saunders
. They also had made an early offer to Kevin Milwood.
Cuddyer, a longtime Twin, had received three-year offers from the
Twins
and
Phillies
and possibly also the
Mariners
.
For more MLB news and rumors from Jon Heyman, follow @JonHeymanCBS
.