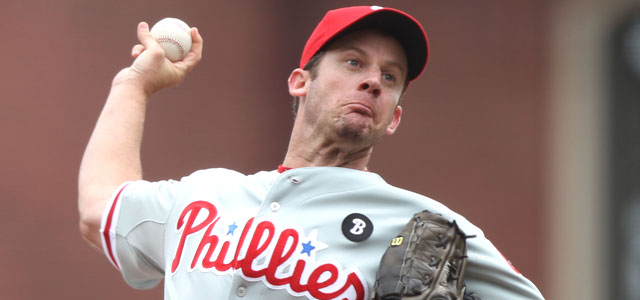 It's less than three weeks until spring camps open, and an unusual number of very viable -- and in some cases, even accomplished -- players remain free agents. Here are 20 still available on the market who could still help someone:
1. Roy Oswalt, SP.
His apparent geographic requirements have dragged this to the edge of February. Looks like it's down to the
Cardinals
and
Rangers
after he rejected the
Tigers
and so far resisted the
Red Sox
. Terrific career, but hinted at retirement during a season in which he had career high 1.34 WHIP.
2. Edwin Jackson, SP.
He reportedly has two three-year offers, and the Red Sox, who are in on many players, are there with a bid, as well. Has remarkable record of durability for a young (still only 28) pitcher, but one bad early year in Tampa skews his career stats. A clubhouse plus who always answers the bell, but hurt himself with an uneven postseason. One of three active pitchers 28 or younger with less than a 4.50 ERA, at least 199 innings and more than 140 strikeouts in each of the last three seasons. The other three are
Matt Cain
,
Tim Lincecum
and
Felix Hernandez
.
3. Johnny Damon, DH-OF.
Didn't appear to be slowing down last year when he hit 16 home runs and stole 19 bases, but perhaps he's caught in a difficult DH market.
Yankees
, Tigers,
Orioles
and
Mariners
make sense, but the A's would be the most interesting spot after his negative
Moneyball
mention.
4. Casey Kotchman, 1B.
Hit .306 last year after a vision correction.
Indians
and Orioles have been mentioned.
5. Mike Gonzalez, RP.
Strikeout artist has 10.3 strikeouts per nine innings over career and 1.24 career WHIP. Lefty could help several teams, including Rangers and Yankees.
FULL FREE AGENT TRACKER
6. Todd Coffey, RP.
Durable reliever, and he isn't just the guy with the funny sprint from the pen. A rare reliever who pitched in more than 200 innings over the last three years (with a respectable WHIP of 1.26). A's and
Cubs
among those with interest.
7. Hideki Matsui, DH-OF.
His .252 batting average from a year ago hurts him, but Oakland is a death trap for hitters. Wouldn't bet against this guy.
8. Eric Chavez, INF.
Former star had his most at-bats since 2007. Still only 34, and is a terrific guy. Yankees, Nats,
Padres
and
Rays
have shown interest.
9. Juan Cruz, RP.
Dependable seventh-inning man. Has more than a strikeout an inning over his career.
10. Rick Ankiel, OF.
Added something to his repertoire with 10 stolen bases last year. Fascinating career. Also, the best outfield arm in baseball.
11. Micah Owings, SP-RP.
Another guy with two-way talent, and some teams have wondered about utilizing him as more than a pitcher. Has .507 career slugging percentage. Also, made nice comeback to go 8-0 for Arizona in 2011.
12. Mark Teahen, INF-OF.
Versatile player underperformed last year but is a .264 career hitter.
13. Chad Durbin, RP.
Yet another durable, useful reliever still out there.
14. Aaron Miles, INF.
He's a .281 career hitter who's outperformed expectations everywhere except with the Cubs.
15. Kosuke Fukudome, OF.
Speaking of being a disappointing Cub, Fukudome wasn't looked upon kindly as an overpaid North Sider. But as an outfield extra who plays defense and gets on base (.361 career OBP), he'd be a solid pickup.
16. Magglio Ordonez, OF-DH.
Sure, he's had ankle problems the past couple years. But the man can still hit. Batted .294 after the break last year.
17. Edgar Renteria, INF.
Twice a World Series hero, he's obviously hoping to outlast longtime nemesis
Orlando Cabrera
.
Giants
, Red Sox and Rays are among teams that have shown interest.
18. Raul Ibanez, OF_DH.
He hit 20 home runs in a down year. That .289 on-base percentage may be scaring a few teams. Yankees and
Mets
both would fit. Good guy in the clubhouse.
19, Jason Isringhausen, RP.
Should have something left after his surprise comeback season in which he allowed only 36 hits in 46 2/3 innings.
20. Livan Hernandez, SP.
Yes, I know, he throws slow. And it's possible he isn't exactly 36 (as listed). But he's won at least eight games 16 straight years, and did have 16 quality starts last year.
For more MLB news and rumors from Jon Heyman, follow @JonHeymanCBS